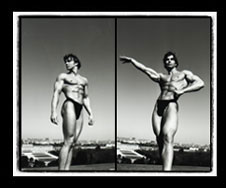 Life before California. Yes, there was life before California. I was born in Vienna, Austria, and at birth met my first challenge-it took the doctors hours to unwrap the umbilical cord that was twisted around my neck. This trauma left me with breathing problems until I was six years old. My family was very active in many sports and by the age of four I had started to become a part of all they did. By twelve I was competing in track and field, swimming, tennis and skittle, but had no formal gym training. The real inspirations for my private training sessions were American movies such as "Rocky" and "Terminator." I did not begin regular training at a gym until I was almost twenty.
After graduation and my obligatory military service I began training seriously. In spite of pressure from my peers, I refused to use steroids or hormones. My attitude toward these drugs was vindicated in 1994 when I placed second in the Austrian IFBB novice championship. The next competition demanded a totally different body "look" from the previous competition, but by radically slimming down and changing my body shape I won the very first (and also the largest) Mr. Vienna Model and Talent Contest, something for which I had had only two weeks to prepare for! Fortunately-and this is advice I always pass on-I had a very clear image of how I wanted to present myself and how I wanted to be seen. I kept this focus at every competition I entered. I worked hard to achieve those goals. These first successes helped launch by modeling career.
1995-1997 I appeared in many commercials and fashion shows and was profiled in popular health and pop culture magazines and in newspapers.
1997 I was made the exclusive Diesel male model for Austria
1998 First days in California. I had come to California for vacation, and in Los Angeles met Irvine Gelb, one of the foremost fitness photographers in America. Through Irvine I was introduced to executives of Weider Publications, who published my first photographs in Muscle and Fitness Magazine, sponsored by Tuff Stuff Exercise Equipment. I had the good fortune then to meet the Vice President of Tuff Stuff, Pete Asistin, who asked me to be the spokesperson for the company. This was an ideal situation for me, because my own personal experience had convinced me of the importance of well-engineered equipment in physical development. I was also already convinced that not just body builders but most people, and especially older persons, can and should benefit from regular use of good exercise equipment. At the same time I was also modeling for a major California agency.
1999. I won the California Natural Bodybuilding Championship and had supporting roles in a number of TV programs, including "Silk Stockings," and in various health and fitness-related infomercials. I also had the lead in a number of European commercials, including those for Snickers candy bar.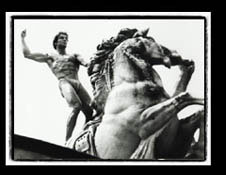 2000. I won the Forever Natural Universe Championship as well as three Weider-Modelquest awards for first in class. I had a supporting role in the film "Jungle Juice;" and featured roles in various commercials. I also had a supporting role in feature film "Phone Booth" With Colin Farrell.
2001. I appeared in national commercials for McDonalds and 7Up, and was the main host for the multi-episode TV travel documentary, "Dream Street, America," which was filmed in California for release throughout Europe. I also had a supporting role in the sitcom "Viva Vegas"
2002. I was selected to be Arnold Schwarzenegger's double(photo double and inserts) in the feature film "Terminator 3", for which I worked on for almost 6 months. I was Overall Winner in the 2002 Modelquest Universe competition and host for an infomercial for Total Slide Exercise Equipment, featured with Olympic ice skating champion Tai Babalonier. I made many appearances as cover model and featured model in a wide variety of magazines, including Health, Physical, Men's Fitness, Muscle & Fitness, American Health & Fitness, Muscle Magazine, Muscular Development, Max Muscle, Natural Muscle, American Health and Fitness, UnderGear and Apollo.
2003. I am featured with Joan Collins in a nationally distributed commercial for Marriott Hotel's new promotion campaign, "Spring Hill Suites." I did cover shoots for American Health & Fitness and for Physical Magazine and served as host for a European exercise video. I also guest starred in iNet's "Girl Talk" and "The Daily Show" on Comedy Central(the show won 2 Emmy's in 2003), plus worked as a model for several ad campaigns.
2004. Supporting roles in the features "Malevolence", "Pieces of Eight" and "Flight Plan". A starring role in the pilot for the TBS-Show "Outfoxed". A starring role in the "Bud Light" commercial. Articles and covers for several fitness publications including "ahf, Oxygen and Planet muscle". Featured in the article "The world's fittest bodies"(ahf-Magazine June/July issue). Click here to see the latest 2 "ahf"articles I am featured in ("ahf" stand for American Health&Fitness Magazine). Plus I am working on finally editing my personal workout video from 2002 and on shooting new exercise Video and DVD products with the help of the producers of Icon Men.
Yours, Robert Amstler
ramstler@hotmail.com